Jackson's Miniatures started in 1989 when Vera Jackson opened "The Welsh Doll House" in Brecon Road, Abergavenny (South Wales). As well as selling generally available doll house miniatures, Vera developed her own line of products, which other businesses began to purchase to sell in their own shops. In 1993 Vera decided to sell "The Welsh Doll House" (which has since closed) and concentrate on supplying trade customers with her unique and expanding range of "Jackson's Miniatures".

In 1994 the business moved from Abergavenny and was briefly located in Dorset and then Devon, before moving to Epsom, Surrey, in 1995, where it remained for 7 years. In that time, Jackson's Miniatures prospered and grew, and in 2002 Vera persuaded her son, Steve, to take over running the business on a full time basis. He had been helping with the administrative side of Jackson's Miniatures for a while, but he was beginning to find that his unpaid part time job was taking up more time than his full time paid employment in London!

As part of the change in management the business was incorporated as a limited company and moved to its current premises in Gillingham, Dorset. Jackson's Miniatures continues to specialise in manufacturing 1/12th and 1/24th scale doll house miniatures in Britain, though the business has also expanded into producing a range of affordable garden railway building kits.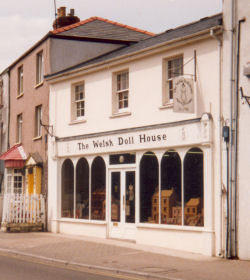 Principally we are a doll house miniatures manufacturer with an emphasis on quality and value for money. Our major product lines are tried-and-tested doll house plans, detailed, and dimensionally correct, Georgian and Victorian doors and windows, period wall and floor and ceiling papers, and a growing range of garden railway building kits, which are proving to be very popular. Our products are available through our authorised distributors or, in case of difficulty, directly from us. We supply wholesalers and shops throughout Britain and increasingly around the world. In the USA our wallpapers can be purchased by hobbyists from Hobby Builders Supply (www.miniatures.com), and by retailers from Handley House (www.intlminiatures.com).

This on-line catalogue and retail price list replaces our printed catalogue and shows our entire product range. For trade prices and terms & conditions please complete the trade enquiry form on this web-site.

If you have any specific questions about our products please use the online retail enquiry form or contact one of our retail outlets shown in the
"Where to buy" section.

If you would like a trade price list or want to enquire about selling our products please use the trade enquiry form.